CrispAds Blog Ads
Thursday, July 13, 2006
Some Deafies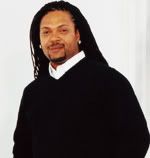 Fred Beam appears on
Essence.com
. However, there's just a brief information about him. Fred Beam is well known as a dancer for the Wild Zappers. I'm not sure if he's still involved with WZ or not. He's currently involved with the National Black Deaf Advocates (NBDA).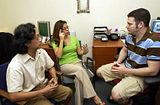 Marc Rubin
, an alumnus of the University of Texas at San Antonio (UTSA), will be working with the U.S. military in Italy. According to the military, Rubin is the first Deaf to work with the military overseas.
While Not Deaf But Worth Mentioning: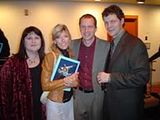 Bill O'Brien-far right
Bill O'Brien, currently
Deaf West Theatre
's managing director and producer will become the
director
of theatre and musical theatre of the
National Endowment for the Arts
.
Hopefully, he'll remember the Deaf theatres when he leaves for NEA.
Well, have a good day! Ta ta...
|