CrispAds Blog Ads
Tuesday, January 18, 2005
Elektra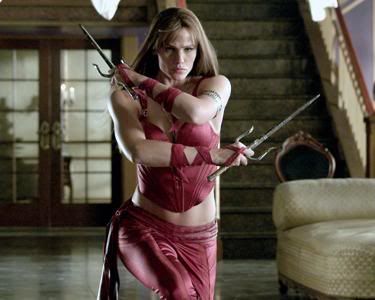 Friday night, KT and I headed out to see
Elektra
, after work. We were a bit apprehensive because of our 2 previous experience at the movies. I had blogged a couple of times where we would go to the movies, that were supposed to be captioned via rear window, and then there would be no captions when the movies started. (Although we ended up getting free movies passes.) We realized that problems occurred on opening nights. KT said that if it happened with Elektra, then we know to never again go on opening nights of the movies. However, it worked!
Anyways, Elektra was good! I was impressed. (Of course, I'm not that hard to please.) I love to watch superhero movies because I grew up reading and collecting comic books. However, I'll have to admit that not all superhero movies are good because the plot or the costumes usually come out corny.
Anyways, if you're in the mood for an action movie, check out Elektra!
ta ta...
Oh, before I forget...Fantastic Four is coming out on 4th of July. Although, I'm not a fan of the FF, the previews look pretty good that I might actually check it out.
|