CrispAds Blog Ads
Friday, April 27, 2007
Constantly Learning
Monday, April 23, 2007
Warm Weekend
Boy, what a wonderful warm weekend! I think I felt like a bear, coming out of hibernation.
Friday night, KT and I went out to
Thaiphoon
to celebrate
Kekua
's birthday. It was good to see that old bitch. One more year and he joins the 30's club. Now, I'm just waiting for Brad and
Cliff
to join the club. Of course, by the time they do, I'll be joining the 40's club. Dammit!
Thaiphoon was ok. I was surprised because I had went there before and enjoyed the dining experience there. This time, it was alright. However, I had a grand time bitching with KT, Kekua, Brad, Merritt and
Shannon
.
Afterwards, we went over to Starbucks for the monthly Deaf GLBT coffee social off of P and 21 Streets. The weather was so nice that some of us opted to hang out outside. The rest huddled inside.
Saturday night, KT and I met up with some friends in Chevy Chase. We dined at
Meiwah
. The place looked really nice. However, the food was average. I had General Tso's chicken. There was nothing impressive nor spicy with my dish. I've had better Chinese food at Yum's.
Anyways, conversations with these friends are always hilarious, intellectual and thought-provoking. I could post entries on subjects we've touched that'll last me a month. Hmmm....we'll see about that.
Sunday was sort of a lazy day for me. Rested up. Went to
JCPenny
and shopped. Went to
Marlo
and ordered a sofa. We're getting a new sofa!!! Yay!
Came home and watched some episodes of
How It's Made
. Interesting stuff to learn about how things have been made. It's amazing to see how things are mass produced and custom-made. So, now every time I go shopping, I'll be wondering just how these things were made. You just hafta check it out!
Then, a student from
NTID
IM'd me for her Deaf Literature class project. We had a good conversation about my background and her interest in interpreting. It was just a nice surprise.
A couple of more weeks and I'm done with teaching most classes. I'll have my online class until June. Then, it's summer time for me!!!
**********
Below, Liz took a picture of us at the recent
DPHH
at
Clyde's
in Chevy Chase. (I hate surprise pictures!!! Ah well.)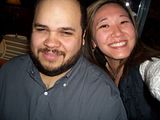 I looked better
here
, taken by Rob Rice.
ta ta for now...
Labels: Deaf events, friends
|
Thursday, April 19, 2007
B-day & GWTW
Monday, April 16, 2007
A Good Sleep
Wednesday, April 11, 2007
Tidbits - 4/11/07
Tuesday, April 10, 2007
Constantly Learning
Monday, April 02, 2007
April is Here