CrispAds Blog Ads
Monday, February 07, 2005
A Couple More...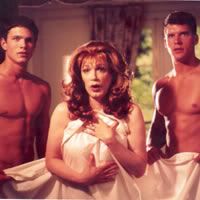 Die Mommie Die! is a movie that every queer should add to their DVD collection. It's a wonderful movie that just had KT and I laughing in some scenes. I cannot believe that I haven't watched this flick any sooner. Where was I?
Jason Priestly starred in this film. KT and I were sharing the fact that we were both gaga over him in Beverly Hills 90210, not Luke Perry. Eww!
Anyways, you gotta check out this cute flick!

Something the Lord Made was a wonderful movie. This is based on a true story about 2 men, a surgeon and his Black assistant, who made a mark in the history of heart surgery in the early 20th century.
All I can say is have a box of tissues ready towards the end of the movie. I loved it!
Ta ta for now...
KT and I will be heading over to the local theatre to watch Lemony Snicket's A Series of Unfortunate Events.
|