CrispAds Blog Ads
Wednesday, April 13, 2005
Larger Than Life Legos...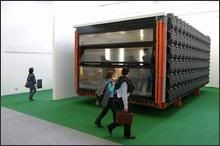 Oh goodness! I cannot imagine living in these
stackable apartments
. However, it is happening in Spain. Today, many
young people
are living with their families until their in their 30's before they can afford to live on their own or get married. These
box-like apartments
contain 270 to 320 square feet of living space. That is small!
Can you imagine living in one of those stackable apartment, along with the endless amount of stuff you have?
However, at least something is being done to help the young people live on their own than to live with their parents throughout their 20's. The job market isn't helping the young people. Salaries for entry-level positions suck!
Buying a house is like impossible to afford. Houses were own by single people or married couples. I wouldn't be surprised that in the near future, 4 to 6 people will be chipping in together just to buy a house.
KT and I are blessed to be able to own a house. We wanted to live in DC but the prices are ridiculous! We saw a condominum community that gave out affordable prices. We thought, finally! We went to check it out. The condos were beautiful with hardwood floors and state-of-the-art technologies and appliances. Biggest complaint: small! We noticed that there was no coat closet to put away coats and a vacuum cleaner. The sink was in a far corner, how the heck are you supposed to wash dishes? The bedroom closet was designed for one person. KT had tested out the bathroom. He sat on the toilet and his knees were touching the opposite wall. Yes, that's how small the bathroom was! There was no storage closet for towels or seasonal things. We had ask the realtor and he said you'd have to rent a storage space offsite. (pffft) In the back was a parking lot. Oh, that's not included. You have to pay extra for a parking space.
Anyways, we decided to look elsewhere. Luckily, a friend of ours decided to sell his second home. Next thing you know...owning a home became a reality. We're soon nearing our first anniversary of home ownership. Little things have been fixed and added here and there. We're definitely gonna be doing more renovations during the summer and we're excited!
No way will you be able to put in me that small stackable apartment. I think I'd be claustrophobic.
|