CrispAds Blog Ads
Wednesday, April 06, 2005
Simple Day...
Sometimes the best day to have is a simple day. Nothing fancy or anything dramatic.
Yesterday was a good day, for the most part. Went to work, then to school. Got back this one paper, riddled with red ink. Sigh. Just gotta work on it again and turn it back in.
After class, went back to work. However, as soon as I got off the Metro, I just felt so sick all of a sudden. I broke out in sweats. I was hot and cold at the same time. I was slightly shaking. Felt nauseous. I kept telling myself, please don't throw up. I would just be so embarrassed to *ralph* right there in the Metro, with everyone looking at me. If that had happened, I don't think I'd ever ride the Metro again.
Interesting about *ralphing*. That early morning, I had a dream. A cousin of mine and I were strolling around this store. We were looking for a particular section. We came across the furniture section. My cousin started coughing and then out came the projectiles onto the furniture in display. When I saw that, I looked away and walked away as well, as if I didn't know her. Awful, ain't I?
Anyways, made it to my office, along with water and Diet Coke. Took a few minutes to relax. I just think it was the sudden exposure to the sun, when I was walking from Gally to the metro. We've had an interesting weather for the winter. Had a few days worth of rain. Then, out of the blue, the sun is up and burning bright! I really don't know what it was.
Anyways, after work, I headed over to Dupont Circle for a haircut. Sigh. Not really a good haircut. (I just looked into this little mirror that I have posted on my computer. The real purpose of it is to see who's past my little cubicle. Anyways, I was checking up my hair...what's left of it...and ugh, fucked up! I look like Clinton, with random hair sticking up. I'm trying to lick them down.)
After my haircut, went into Lambda Rising. Oooo, new books to add to my WishList! Caught a fugly guy checking me out! Ugh! Saw a cool magazine, I think it was called Gay Times or something like that. Thought I'd buy an issue but changed my mind when I saw it was $9.50! Shit! I was inspecting it why it was so expensive. Oh, it was printed in England. Hmmm, maybe another time.
Hopped over to Chipotle for a burrito and brought it home. Mmmmm! Good stuff! It was worth the 1000 calories!
Ended the night with some cuddling and love with KT! (Woof! Woof!)
Like I said, simple day. Days like those are simply the best.
Just got another email from my Mom's best friend. She'll be giving me some stuff of Mom's and something from my aunt. Definitely looking forward to that!
******************************
Thought I'd post something from TV past, like my previous posts (Memory Lane...). Remember them?
Pac-Man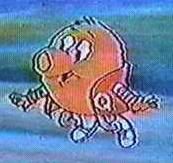 Q*Bert
|