CrispAds Blog Ads
Wednesday, May 18, 2005
Monster Berries...
How many of you enjoy learning something new? I do! Sometimes, I learned something new that maybe others already knew but so what! I was reading something last weekend and learned that
eggplants
are actually fruits. Not only that, but they're also berries! I was like...huh?!?!
I told KT and he had mentioned the same for tomatoes. I had thought he was referring to how people assumed that tomatoes were vegetables. However, I also learned in the link above that tomatoes are also berries. Holy moly!
Definitely learned something new! Already knew that? Well, good for you! :-P
******************************
Currently reading: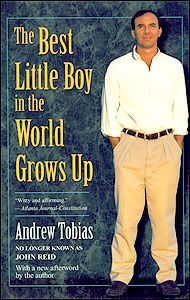 The Best Little Boy in the World Grows Up
by Andrew Tobias
This book is the sequel to
The Best Little Boy in the World
. Tobias was using another pen name, John Reid, at the time of the first book. This back in the late 70's/early 80's when he first wrote this book at a time where gays weren't quite out and accepted, compared to today.
I enjoyed the first book because I could relate to some of his perceptions, fears, uncertainties, desires, etc. The first book chronicled his childhood and education, as well as dealing with being gay and coming out to a few friends.
The second book contains the same humor. Tobias is now out of college and is in the working world and looking for love. Even as an outed man, Tobias still has some uncertainties, desires and even discoveries that many gay men can relate.
I am looking forward to read the rest of the book and see what else happened in his life.
Better get back to work. Ta Ta..
Oh. KT and I will see The House of Wax tonight. Yay!
Ok...ta ta...
|