CrispAds Blog Ads
Saturday, July 30, 2005
Pieces of April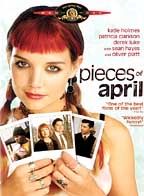 If you like watching movies where family/relationship dynamics are a bit whacked, then you'll enjoy this movie.
It's Thanksgiving Day. A family are traveling over to their daughter's place for dinner. Their daughter, April, is the black sheep of the family. The family are wary about going over. While traveling, the family are also dealing with their mother, who is dying from cancer.
I love it so much that I wanna own a copy of this DVD. I just love watching anything with whacky family dynamics.
|