CrispAds Blog Ads
Wednesday, September 21, 2005
Miscellaneous
Not much to blog about lately, especially when I'm just working and going to school.
Yesterday was a good day. Class was done earlier, so I had a chance to work on a PowerPoint presentation for a class I will teach. Afterwards, I stopped by at Cliff's place and then we both headed over to DuCi to do a couple of errands. Then, we came back to his place and watched X2. Some movies are worth watching over and over again.
**********
Thought I'd post an interesting news. Wal-Mart, the one in Oldmar, Florida, has been awarded an Award of Excellence, by the National Arbor Day Foundation. Here's a news release from
Wal-Mart
.
The problem is that Wal-Mart was the
only store
that entered for consideration. Another problem is that despite the planting of trees, to make up for the destruction of 5 acres, some of the trees died. Wal-Mart also created a man-made wetland, despite the fact that they almost always fail, which did in this case.
My question to NADF is why must stores enter their names for consideration? Why can't NADF scout around on landscapes that are considered ecologically safe and sound or have improved over time? The Award of Excellence to Wal-Mart just made the whole she-bang worthless.
Other
people
have complained as well.
Oh yeah...
116,000
current and former employees are suing Wal-Mart because they were denied lunch breaks.
**********
I gotta read
Eragon
, as a part of the
Inheritance trilogy
, soon! Eragon is currently being
filmed
in Hungary, starring John Malkovich and Jeremy Irons.
Interesting to read that the author,
Christopher Paolini
, is only 21 years old. (Most of the links on Paolini are 2 years old, here's a recent
link
in the Post.)He was actually
home-schooled
and graduated at the young age of 15 (earning his diploma via correspondence). His parents thought he was too young to go to college. Instead, Paolini started working on the story about a boy and a dragon. Ta-da, now he has 2 bestsellers and is working on the 3rd book.
¡Que suave!
**********
Whoa! Renee Zellweger has already filed an
annulment
from country music star, Kenny Chesney. They were married...what...3 months or so? Dang!
**********
Not too long ago, I made some lists of old TV's shows and movies of the 70's and 80's. Yesterday, for some reason, I suddenly remember this cartoon show back in the 80's. I dunno why. Anyways, do you remember this show?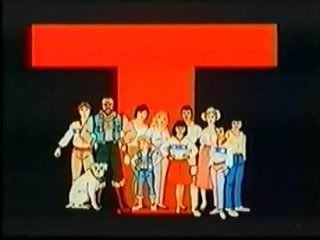 Mister T
It was a cartoon of Mr. T running a gym. Mr. T and his team of gymnasts, fought crime with gymnastics.
Anyways, gotta get busy now. ta ta...
|