CrispAds Blog Ads
Wednesday, September 28, 2005
Rehoboth Beach
Friday morning, for our 5th anniversary, we exchanged one gift since we'd be going out of town. Funny thing was that we both got each other a coat. 5 years and we're starting to think alike, eh? KT had mentioned some time ago that he wanted a light coat for breezy days and got him one. KT got me a sherpa-lined coat that I had pointed out from a year ago, which was certainly a surprise.
Then, after class on Friday afternoon, we zoomed outta town to
Rehoboth Beach
, Delaware. It was a nice quiet drive with the sunset and the sceneries from the Bay Bridge to the beach. Sometimes, we all need those quiet moments as a way of relaxing and reflecting.
After we arrived, we checked in at
The Shore Inn
, a cute little gay motel, located at the entrance of Rehoboth Beach. I'll come back about the inn later. So, after checking in, we headed out for dinner at a nearby restaurant, which we literally ate our dinner in like 1 bite. We were ravenous since we had lunch before noon and didn't get to eat dinner til about 7:30. Afterwards, we went window shopping and took a stroll on the boardwalk.
After that, we headed over to
Double L
, which is like a minute's walk from the inn. With summer over, there wasn't that many people there...at first. So, KT and I entertained ourselves with one of those touch-sensitive video monitor that offer an array of games. Try playing with a game where you're competing against time, while you're buzzing. Of course, KT was beating me but it was fun.
Later that night, we came back to the inn and hung out at the hot spa. The inn has two hot spas. The one on the ground is a big one which can hold about 10 to 14 people and has those "Christmas" light in the interior of the tub. The one upstairs is smaller, which holds about 5 people. However, the one upstairs isn't Deaf-friendly as there are no lights posted around. Anyways, it was just so relaxing to soak in the hot water. I kept telling KT repeatedly that I want a hot spa for our home. Gotta have one!!
Saturday was a cooler day, which we shopped, literally from 9 to 5, at the outlet malls. At first, we were kinda like careful with our spending but then we kept seeing more and more things that we needed and wanted. So, we looked at each other and we were like the heck with it, let's have fun! Since starting school and reducing hours at work, we had been careful with our budget and did pretty good with it. Well, we were like, we deserve it and it is a special occasion and boy, we did have fun!
If you ever get to Rehoboth Beach and get in the mood for Mexican food, check out La Tolteca. Finally, a place where you can eat the "real" Mexican rice in the East Coast area. So delicious! The other food were not impressionable but alright. The best part was their frozen lime margarita. One glass had me all happy and giddy for the rest of the afternoon of shopping.
Afterwards, we were pooped and came back to the inn to relax. We borrowed a movie from the office,
Napoleon Dynomite
. O.............k! That was some weird and hilarious movie in the nerd world. I am so not gonna add that movie to my collection as I don't think I'd watch it again.
We went back out shopping at the boardwalk. Before we came, KT was starting to get a sore throat and was sneezing occasionally. By this time, he was "true business" sick. However, he wouldn't let his sniffles and sneezes deter him from celebrating and having fun with this weekend getaway.
We came back and practically hung out all night at the hot spa. I didn't want to do anything else and tire out KT. Again, I found myself raving about the hot spa. That's it. After we get our Master's, one of the first thing I wanna get is a hot spa for our home. Yep, I've been spoiled already!
Sunday, we headed back home. The Shore Inn is a cute inn, which is perfect for a weekend stay. I wouldn't recommend staying there for a week. I say that because our room was a small little room, with a small bathroom and a dorm-sized refrigerator. Don't get me wrong, it was cute. However, the bed had us tossing and turning, along with thin pillows. You had to fold them in half, just to be comfortable. But there were other things that made up for these "negatives". The inn was placed conveniently among places. Right behind was a liquor store. Double L is a minute's walk away. There are a couple of convenience stores close by. Hot spas on the premises. Cats also hang out there. A couple of staff there made us felt welcomed as they signed and fingerspelled a bit and encouraged us to join their happy hour gathering by the spa.
Overall, it was a good weekend and just what we needed. KT is ok now. I think he just needed a good bed and some uninterrupted sleep.
**********
Kekua tagged me with this below, so here goes:
TEN YEARS AGO.....
At 21, I had enrolled at the local community college (SAC). I took a 2 year break from school after withdrawing from another college.
FIVE YEARS AGO.....
I was a senior at Gallaudet and was dating KT. KT and I kept it a secret for 2 months, for valid reasons, before announcing to others about each other. Only Cliff and Manny knew about it from the beginning. It was hard to hide this dating thing from Cliff because Cliff and I were roomies at Benson Hall.
ONE YEAR AGO....
KT and I bought our first home and enrolled at Gally for graduate studies.
YESTERDAY....
Ugh! I was working on a PowerPoint presentation for a class I will teach this Saturday. My disk was out of memory. So, I went to the bookstore to buy a Zip disk. I came back to the computer and attempted to save. However, I failed to read that this particular disk was "read only". I was like, I'm tired, so home I went.
5 SNACKS I ENJOY
*spicy Doritos
*tortilla chips and hot salsa
*Gala apples
*crackers and cheese
*gummy bears
5 SONGS I KNOW THE WORDS TO.....
* I thought I did but can't remmy words right now.
5 THINGS I WOULD DO WITH A MILLION DOLLARS
*pay off bills
*buy a bigger house
*get a new car
*donate to various charities and organizations
*invest the rest
5 THINGS I'D NEVER WEAR
*well, definitely won't wear one of those skimpy Speedos, being big guy
*socks in sandals
*pajamas/loungewear to classes
*an ascot
*tie-dyed shirts
5 BAD HABITS
*not keeping my nails trimmed regularly
*smoking cloves cigarettes
*letting mail pile up in my nightstand drawer before I finally file them away
*procrastinating with camera film development
*(can't think of a 5th one)
5 FAVORITE TOYS
*books
*pager
*cats
*laptop
*(can't think of a 5th one)
5 PEOPLE TO TAG
*witchyrosey
*spunkygoddess
*veevee
*deaf258
*jeffycito
**********
Currently reading:
Drop City
**********
Remember this?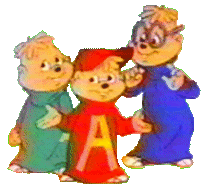 Alvin & The Chipmunks
ta ta for now...
|