CrispAds Blog Ads
Wednesday, December 07, 2005
Snow
Ok, so it snowed. It wasn't enough for Gallaudet or work to close for the day. Ah well.
I finally got to see
Audism Unveiled
yesterday. I enjoyed watching the documentary. Just about any Deafies can relate to what Deafies have said in the film. There were some parts in the film where I just had goosebumps.
For years, we've had to deal with and take in audistic attitudes, perceptions and answers. It's time to take that stand and say "enough!". We've got to start fighting back, even if we have to go to court. Audism isn't an accepted legal reason to file a lawsuit. However, we can tie that with discrimination. The film listed some cases where Deafies have sued people or companies for discrimination and won. We may *BORED* do the legal work but we've got to do it in order for people to start waking up and say "whoa, we can't mess around with Deafies".
If you haven't seen it yet, then you gotta check it out! It's empowering.
I just cannot wait to finish my papers and projects. Looks like I'll finish Saturday, instead of Friday. See see...
**********
I got an email to mention
GallyPost.com
. It's an uncensored forum site where people can go and express their opinions and concerns on various issues and people on the campus of Gallaudet University. So, sure to check it out.
**********
I got a forward from a friend for the cartoons below. I thought they were cute. So, here goes: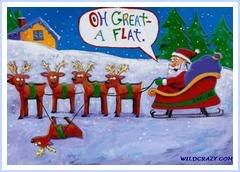 Happy Holidays!
|