CrispAds Blog Ads
Tuesday, January 31, 2006
News of the Day
Coretta Scott King
dies at 78.
Man tripped over his shoelace and accidently destroyed 3 vases from the
Qing Dynasty
.
Jill Carroll
, a journalist for the Christian Science Monitor who was kidnapped by the Revenge Brigades, reappears in video. This time she's seen wearing a white Islamic veil, covering her hair, neck and shoulders and pleading for the release of Iraqi women.
The director of
GLBT Affairs
will now join D.C. Mayor's cabinet.
D.C. Mayor Anthony Williams
doesn't veto
the smoking ban. The act now goes to Congress for review.
Brokeback Mountain
earns more nominations. Meanwhile, it still hasn't been captioned.
**********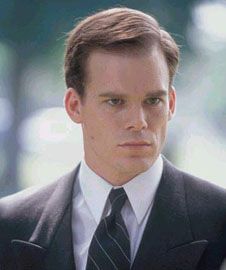 Michael C. Hall, who played the gay funeral director in Six Feet Under will return to Showtime. In
Dexter
, he'll be a police forensics specialist who is also a serial killer. He kills people who deserves to be killed.
I've read one of the
Dexter
books and it is quite interesting. I should check out the other
books
soon.
Well, ta ta for now...
|