CrispAds Blog Ads
Thursday, February 16, 2006
Olsens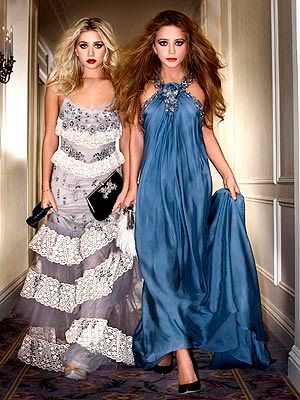 Aren't the Olsen twins so beautiful here, modeling for
Badgley Mischka
?
**********

Bewitched with Nicole Kidman and Will Ferrell was ok-ok. I wasn't really impressed with it because of a slight deviation from the original series. This movie made it like some actors getting together and making Bewitched a television show.
When Nicole's character came on and introduced herself as Isabel, I was like, "hey, wait a minute, it's Samantha, not Isabel". Then, the plot to make Bewitched a tv series again began.
Eh. I just wasn't impressed with the overall movie. I've not been impressed with Will in recent movies.
Perhaps my expectations were a bit high for the movie and was disappointed.
**********
I'M EXCITED!
Know why?!?!?!?
Because
Brokeback Mountain
will FINALLY be captioned this
Sunday
in Silver Spring!
PAH!
Speaking of Brokeback Mountain,
Willie Nelson
will release a new song which may be the first gay cowboy song by a major artist, "Cowboys Are Frequently, Secretly (Fond of Each Other)".
Distributors of Brokeback Mountain were surprised that
Singapore
has approved the film, even though homosexuality is illegal in the country. It will carry an R21 rating, which means that the film will be restricted only to those 21 and older.
**********
ta ta for now...
|