CrispAds Blog Ads
Thursday, May 18, 2006
Graduation Week
by Maureen Kluza www.moeart.com
Whoo! It's been a little over a week since the last post. KT and I had been busy with the hooding ceremony, graduation, families as well as keeping track with the protests of JK and the search process.
I'm sure you all are caught up with Celia Baldwin resigning as Interim Chair of the Board and Brenda Brueggermann as the replacement. I'm sure you're also aware of JK resigning as Provost and will be searching for the next Provost.
There have been scores of letters, emails, public addresses, newspaper articles, photos, blogs that have kept diligent tabs throughout. If you're behind, you can check the following blogs, which also have links to additional sources:
Ridor
Elisa
FSSA
DeafDC
**********
I know! I know! I got IM's from some of you asking me to blog about graduation and the families visiting. So, here goes:
Dad arrived in Richmond on Tuesday night. It was unexpected because we had agreed to meet Wednesday evening. However, he was driving from Orlando and decided to stop in Richmond and rest up for the night.
Wednesday, Dad arrived noonish. This was the first time that I met his wife, Juana. She seemed like a nice lady, although she was nervous and shy. We didn't really talk since she doesn't speak English. She was too nervous to actually pay attention to the gestures that KT and I were trying convey. She would just look at my dad for interpretation.
Dad and I seemed to really get along. He brought over his laptop and wanted me to help him with the computer stuff to get his home business off the ground. Meanwhile, KT and Juana were playing dominoes.
Afterwards, we headed over to California Pizza Kitchen in Dupont Circle. Juana, being from Mexico, was nervous about everything. She felt queasy riding up and down the escalator.
I wasn't really nervous about meeting Juana. However, there were just a lot of awkward silent moments, since we both could not communicate. Just a lot of smiles being passed back and forth.
After dinner, we went our own separate ways. I was supposed to pick up my aunt, Mary, at BWI at 11:30pm. However, the plane was delayed and didn't pick her up until an hour later. Nonetheless, it was good to see her once again. We were up til like almost 3am, catching up.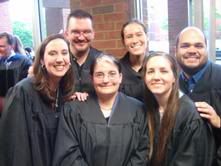 Some of the ASL/Deaf Studies graduates:
back (left to right): KT, Liz Parks, me
front (left to right): Beth Dukes, Bridget Klein, Meredith Filiatreault
Thursday was the Hooding Ceremony. Just before the ceremony, we saw KT's folks. It was good to see them once again. However, this event was just too long that made everyone restless. Traditionally, the hooding ceremony had both the graduate awards and the ceremony. This year, they were going to do the awards part a week prior so the hooding ceremony could be shorten. However, things happened (I'm assuming the protest thing or whatever) and the awards was postponed to join the ceremony.
Lawdy, I wouldn't be surprised if everyone got hemorroids! Like I said, the ceremony was just too long. We were restless!
Oh yeah, JK did leave in the middle of it, which made some people speculate. I was told that she left for a BOT meeting. I was also told of other reasons why she left.
After the ceremony, the families got together at Fuddrucker's in Chinatown. This wa the first time that our families had met each other. It was also the first time that KT's mom and dad saw each other since their divorce. Overall, it was amicable. Mary was just really sociable with everyone. Dad and Juana were kinda left out because Dad just busy interpreting or having his own conversations with Juana. It was just an interesting observation.
After dinner, we went our separate ways, with my aunt staying with us. KT and I had a good time with Mary, catching up on news. Mary and I were drinking shots of tequila. Stayed up til about 1am.
Friday was graduation. As we were on the road to Gallaudet for graduation, KT's dad paged us and told us about the bomb threat on campus. I was like, what?!? Were they going to cancel graduation? Were our families coming here for nothing? So, we get there and sure enough, no one's allowed on campus because of the bomb threats in 3 buildings. However, it wasn't long before they let us back on campus.
Left to Right: Juana, Dad, me, Mary
We dropped off our families at Field House where graduation will commence. We headed off to HMB to line up for graduation. We got one of those awareness ribbon for "Unity for Gallaudet" and pinned them to our gowns.
KT's mom and stepfather
We checked in and were given our designated lines. However, when we were seated in Field House, we realized the line ups were fucked up. The K's were seated with the D's. The G's and H's were behind the K's. The whole graduate seating was messed up. However, that was fixed when we were led to the lobby before going to the front of the stage to get our degree from IKJ.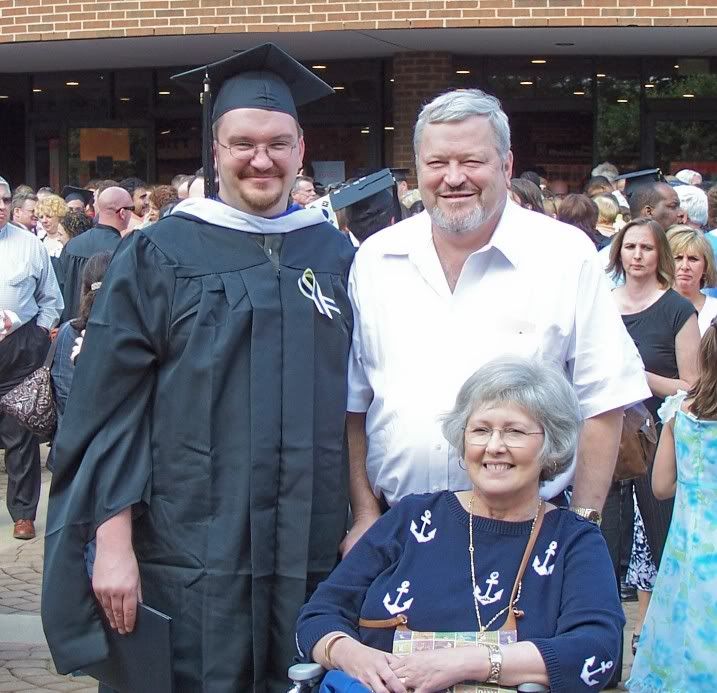 KT's dad and stepmother
A lot of the graduate graduates left before the undergraduates had the chance to get their turn on the stage. Even though we were instructed not to leave early, I could not blame the graduates. We sat forever the night before. Even some of our families were complaining about Thursday night and having to sit forever again.
After graduation, our families met up with our friends for celebration at Guapo's in Tenleytown. Overall, had a great time along with delicious food! Again, Dad and Juana didn't really participate with the families. Meanwhile, Mary was having a wonderful time with KT's folks. I vee vee how my dad was vee vee'ing me with the Deafies.
Afterwards, we all went our separate ways. It was the last time I saw Dad and Juana as they were going to head to Pittsburgh to see his older brother. It was also the last time to see KT's dad and stepmother as they will return to North Carolina for a high school reunion.
Saturday morning was spent with KT's mom and stepfather for breakfast. Afterwards, we drove Mary around DC to see some sights before dropping her off at BWI in the afternoon. It was hard seeing her go because I know that Mary is like the very few people that truly care, in her own way, about me and KT.
After that, we were pooped! It was like, we could finally breathe with relief. No more school. No more families.
We're free!!!!!
Well, that was until we resumed job searches and applications. Ugh, the
stress
that comes with it! Ah, such is life!
Yeah, we both wanna pursue a doctorate's degree. Just not now...
|