CrispAds Blog Ads
Saturday, May 06, 2006
Unity for Gallaudet
Yesterday, KT and I were finally able to participate in the protest at Gallaudet. First, we had to take care of some errands at Gallaudet, such as paying the library fines and whatnots.
There were some motivational speeches at the 4pm rally. Below are some pictures that I took from my Sidekick (picture quality is poor):
The rally in front of Chapel Hall.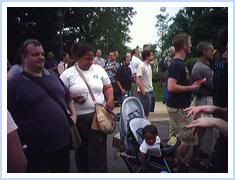 Ridor and Terese among the crowd.
After the rally, we all waited an hour before going to Elstad Auditorium to hear what the Interim Chair
Celia M. Baldwin
had to say about this whole thing. She brought along a fellow member of the BOT,
Tom Humphries
. (Yeah, he's the guy that came up with "audism".)
Below are some pictures of the crowd waiting for the doors to open at the auditorium: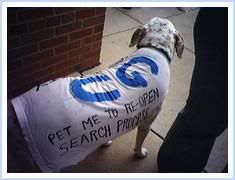 I *heart* this dog. Everyone was petting him as he was moving through the crowd. He had on a t-shirt that said "Pet Me to Re-Open Search Process" and the other side said "Unity for Gallaudet".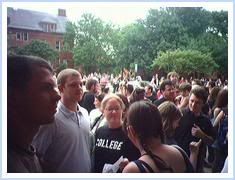 The crowd waiting...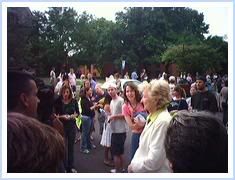 Dr. Jane Norman
speaking to a media camera. The woman slightly leaning forward on Dr. Norman's right is Dr. Margaret Vitullo, Chair of Sociology. On the camera's right is Jeff Hardison, interpreting for Dr. Norman. (For the link on Dr. Norman, scroll down to see her biography.)
By the way, yesterday, I posted an alleged letted of Dr. Jane Norman. It turned out to be authentic as copies of the letter was passed around campus and posted.
Counterprotesters, supporters of JK, were passing around the flyer below: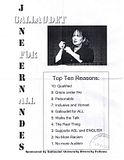 However, protesters immediately tossed them into the trash bins.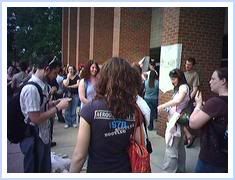 On the left is Adam Stone. Opposite of Adam is Julie Feldman.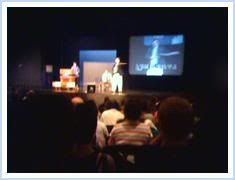 This one is hard to see. The man standing with a blue coat and also appearing on the screen is Carl Pramuk, introducing the 2 BOT members. On the left, leaning on a podium is Celia Baldwin. The one sitting behind Carl is Tom Humphries.
It was basically a question and answer session. The attendants were under the impression that Baldwin and Humphries were going to make a speech and then allow questions. However, they just went straight to answering questions. Some students expressed suspicions because Humphries did the majority of the talking, while Baldwin gave short answers and hung back.
For the most part, their answers were recycled as they claimed that other information were confidential. There were some interesting questions that brought out cheers from the audience. However, the best part was
Dr. Lynn Jacobowitz
at the end. The question and answer session had been closed. However, someone asked Carl Pramuk if a faculty could have one more question. Baldwin and Humphries consented.
Dr. Lynn Jacobowitz, professor of ASL & Deaf Studies Dept., came up to the stage and said that she was not there to ask questions but to present certain facts. She listed several things, such as IKJ's slip of "Pres--, I mean, Provost...", IKJ's other statements, etc. The audience was up on their feet cheering. However, everyone was cheering loudly when she closed with "you want us to trust you? Well, I do not trust you two. I do not trust the Board. I do not trust IKJ..." We were all roaring in cheers. When Humphries was replying to Lynn's remarks, one student in the front told the audience to walk out because he was giving the same answers. The audience got up and walked out.
Overall, Baldwin and Humphries did not provide any satisfactory answers. They kept giving reassurances that they did listen to our feedback. They kept telling us to trust the Board and to give JK a chance.
Baldwin and Humphries left for a meeting with the faculty in Fowler Hall.
KT and I wanted the Unity for Gallaudet t-shirts but they were sold out! Arrrgh!
Well, it was late and we came back home.
**********
Another WaPo article about the protests:
Signs of Discord, Seen & Heard
**********
Meanwhile, the protest continues...
|