CrispAds Blog Ads
Tuesday, September 12, 2006
Books & Movies
Ah, my two favorite things...books and movies.
Homo Art (Icons) is a little book which contains a collection of Greek, Asian and some modern arts of homosexual nature.
The first 2 or 3 pages provided a short history of gay arts and how they were scandalous or not, depending in some cultures and times. The book also admitted that gay arts are less shocking in today's time because of society's gradual acceptance of homosexuality. The introduction was brief and it was repeated in other Romance languages.
Most of the arts shown in the book were already familiar with me. There were some others that I had not seen nor heard before. There were 2 or 3 that were vague and I would've never guess them to be of a gay nature. I do wish that there was a brief biography for each entry.
Interesting book. Would I recommend it for your library? Nah. Just glance through it in a bookstore and then put it back.
The Velocity of Gary was ok-ok. The title is misleading because you would think that the movie centers around Gary when it actually centers around Valentino. Vincent D'Onofrio plays Valentino, who is a bisexual has-been porn star with AIDS. Salma Hayek (as Mary Carmen) and Thomas Jane (as Gary) play as his bickering lovers and taking care of Valentino.
The movie starts off with a Deaf drag queen, imitating Patsy Cline, getting off a bus and getting harrassed by a gang of Latinos. Gary is nearby and doesn't do anything. He waits until the Latinos take off before picking up the Deaf guy off the street. The Deaf guy, Kid Joey, befriends Valentino, Mary Carmen and Gary, whom he later develops a crush on.
One night, Valentino stars in a children's play. After they play, they gather around Valentino to congratulate him. Valentino steps outside for a breather and passes out. From there, Mary Carmen and Gary go back in time recalling the time they first met Valentino and the other lover.
The movie is kinda slow-paced. It was interesting to see Vincent D'Onofrio in a heavy kissing session with Thomas Jane. He doesn't hold back. At the same time, it was bothersome to see Vincent with long hair. It just doesn't agree with him.
Like I said...it's an ok movie. If you see it, good. If not, you're not really missing anything.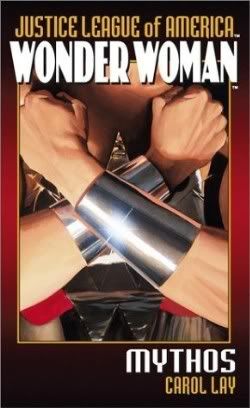 I had ordered Mythos, thinking it was a graphic novel. When I got it in the mail, it was actually just a novel. Bummer!
So, I started reading it and I liked it, even though it wasn't the best thing I've read.
Wonder Woman was dispatched from the JLA (Justice League of America) to investigate the disappearance of a diver in the Bermuda Triangle. Wonder Woman was specifically sent because it was also the area of her hidden homeland, Themyscira.
Wonder Woman returns home to her Amazon sisters and her mother, Queen Hippolyta. She discovers that the diver did not turn up on Themyscira. However, from her mother and an oracle, she discovers that there is another island just like Themyscira but its occupants are men instead.
Through an underwater portal, Wonder Woman discovers the other island and the missing diver. However, the diver is in a trance and retrieves a throbbing orb. The orb and attacks their minds with a mission. They capture Wonder Woman with her own golden lasso which has rendered her powerless. The men plan to use Wonder Woman to lead them to Themyscira to kill the Amazons and then capture the rest of the world.
Back in the JLA headquarters, Oracle (formerly Batgirl), Batman, Superman, the Flash and Green Lantern notice frequent seismic activities in the vicinity where Wonder Woman was sent for an investigation. Their investigation eventually lead them to Wonder Woman. Together, they band to battle the orb and the mastermind to save Themyscira and mankind.
Mambo Italiano was a cute gay movie.
Gino and Nino were best friends all their lives in some "little Italy" neighborhood in America. That was until they reached high school. Gino was some sort of a nerd, in his own way. Nino, bowing to peer pressure, dropped him like a hot potato.
Some years later, Gino bumps into Nino, who is now a cop. They fall in love and move in together as "roommates". Eventually, Gino wants to come out but Nino doesn't, due to his job as a cop and as an Italian.
They were accidently discovered, in the middle of their lovemaking, by Gino's sister. Gino eventually comes out to his family. He makes his family swear not to tell anyone. However, Gino's mother accidently tells Nino's mother. From that point on, the 2 families have been on eggshells with each other.
Meanwhile, Nino is pressured by Gino and his mother. He eventually bows to his mother's pressure and dates a woman, behind Gino's back. When all the truths come out, Gino gives Nino an ultimatum that it's either him or the woman. Nino chooses the woman.
Gino is going through the motions, dealing with the breakup while Nino and his fiance are planning a wedding. The parents are dealing with their stances with their son's
omosessualità
.
You would think that at the wedding, Nino would realize who his true love and go back to Gino. However, it doesn't happen that way. That left me disappointed but then I realized that Gino is better off with another man than with Nino who bows to societal pressures.
Cute movie...funny too.

I was flipping through the channels and came across Mona Lisa Smile. I settled down to watch it, only because Julia Roberts was in it. I thought I'd find myself relaxing with this movie with a feel-good feeling. Instead, I found myself crying with this movie.
Awh, good movie. Julia Roberts was Katherine Watson, who is an art teacher as Wellesley College, a school for women, in the 1950's. Watson was an ardent feminist who veered from the traditional lesson plans and encouraged her class to rethink women's roles in history.
However, Watson did not have it easy. Most of the women in her class (such seen in her class were Kirsten Dunst, Ginnifer Goodwin, Maggie Gyllenhaal) believed that it was their destiny to get married and have children. The most interesting part was Kirsten Dunst who went ahead and got married and challenged Watson. Watson couldn't accept the fact that there were indeed liberal women who chose to simply be married and have children.
Meanwhile, the administration disapproved Watson's methods and conspired to make her confirm to their structures. She was given a choice that she had to follow in order to teach the following year. Instead, Watson left Wellesley.
You could not help but think about
Dead Poets Society
, which is another movie that made me cried as well. There was just too many similarities. Nonetheless, Mona Lisa Smile was definitely a good movie.
|