CrispAds Blog Ads
Tuesday, September 05, 2006
Steve Irwin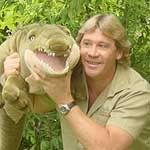 Wow! I couldn't believe it when I learned of Steve Irwin's
unexpected death
.
Steve Irwin was internationally known for his expertise and brave handling with crocodiles and other dangerous animals. He was also well known for saying "crikey!", which made him a likeable personality.
I used to always cringe when he'd be chasing after crocodiles, fearing that a croc might get lucky with Steve. Worse, his wife, Terri, would join in the chase with Steve.
However, over the years, you'd learn that Steve is a wonderful animal advocate and educator. Nothing prevented Steve from exploring an animal, whether it was a crocodile, a shark, a snake, a wombat or whatever.
Steve was filming for an underwater documentary in the Great Barrier Reef in Australia. He was swimming above a
stingray
. Stingrays, when threatened or frightened, will lash out with their tail. On top of their tail is a barb, which is serrated and loaded with toxins. Apparently, the stingray
stabbed
its barb into Steve's ribcage and pierced his heart, killing him once he removed the barb.
Death by a stingray is
rare
. Australia has a record that only 1 other person has died from a stingray and that was in 1945.
Steve truly lived life at its fullest.
Rest in peace.
|