CrispAds Blog Ads
Monday, November 20, 2006
Nice Weekend
Last weekend was really nice.
Friday night was the monthly Deaf GLBT coffee social in Capitol Hill. We had about 30 people show up. Give or take. I had expected a small number since we're in the holiday season.
As always, it was good catching up on news with friends and acquaintances.
Oh oh, before the coffee social, I went to Gallaudet to see an old friend of mine, Natasha. Natasha and I remained close friends since we both enrolled Gallaudet at the same time in '98. She left after 2 years. Nonetheless, we've kept in touch. Anyways, she was in town with her boyfriend. So, it was good catching up with her.
Saturday was a good day. KT and I went to Gallaudet to watch a play, Tennessee Williams'
Streetcar Named Desire
.
While everyone raved about it, I had mixed feelings about it. First of all, it was interesting. However, it was long...3 hours. I enjoyed the first half than the second half. It could be that I was already thinking "hurry it up" by the time intermission was over.
Now, I've never seen Streetcar Named Desire before. I've heard so much about the "Stella!" part. Even Seinfeld did a parody of that particular part, which was hilarious. Anyways, the play was interesting because it was mixed with other characters which I believe were not part of Williams' play. These additional characters were related to
Dia de Los Muertos
(Day of the Dead).
I've already spent like 30 minutes trying to think what else to say about the play. It has to be 2 things. Either that I know if I comment about the play, it'll be a LONG post or it could be that I'm at work and I got lots to do. It only seems that I got a lot to do because I'm only working one day this week. I'm off the rest of the week. Yay!
Moving on...
After the play, I treated Kevin out to Chinese in Chinatown at Tai Shan. Still love that place!
Afterwards, we headed over to Manny's place for Manny & Roy's art show. Their displays were just beautiful. I bought a piece from Manny.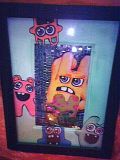 This piece is titled "Vogue". If you're familiar with Manny's works, you'll know that he has created and sold Mava dolls, which KT & I have 2 of them. In "Vogue", you'll see a cut-out and images of Mava's. Can you see the cut-out Mava doing the Vogue dance? Cute, isn't it?
I had asked myself where I would display the works of Deaf artists. I decided that I would display them at work...to raise awareness. I have a poster print of Sander Blondeel's stained glass work. The actual stained glass currently hangs in the Kellogg Conference Center at Gallaudet. It's really beautiful.
Now, I have Manny's "Vogue". I'm waiting to get my copy of
Muck's colorful photograph
. Of course, I must get one of Roy's painting. I'm just waiting to see one that'll connect to me. There is one painting that I REALLY want and that is "
Family Dog
" by Susan Dupor.
Sunday, I met with Natasha again since we were satisfied with the limited amount of time that we spent on Friday. So, we had a good chat.
Afterwards, I had a meeting with CBASLTA.
Came home and vegged out.
Today, I'm just working and then teaching tonight. Then, I'm off for the week!!!
Well, ta ta for now.
|