CrispAds Blog Ads
Thursday, December 28, 2006
Christmas in Minnesota
On Christmas Eve, KT & I flew out to Minnesota, joined by his mother & stepfather, to spend Christmas with his sister and 3 nieces.
I packed my suitcase like I was gonna spend Christmas in the Artic. This Texan doesn't do well in the cold and snow. So, I packed in thermal & flannel clothing. I thought I was gonna be dealing with 20 below zero.
Anyways, we get there and it wasn't so bad.
Christmas was quiet and relaxing. Something that KT & I needed. Of course, we had already opened our gifts Saturday night. We saved a couple for Christmas Day.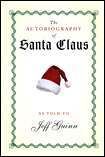 I spent the day reading The Autobiography of Santa Claus that I got for Christmas. I thought it was a good book which gave some creative explanations of how Santa came to be as well as some Christmas traditions. I thought it was an interesting twist on "immortality" and how some people are involved, such as.
I'm not sure if everyone would like this book. However, I would have loved this book if only the author had included the "origin" of Rudolph, the red-nosed reindeer. Ah well.
The day after Christmas, we all went out to
Famous Dave's Barbeque
for a late lunch/early dinner. Damn! This was some delicious finger-licking barbeque! The prices are moderate but you get A LOT of food! You're bound to leave this place stuffed!
Then, the next day, we flew back. It was a simple relaxing Christmas for us, which is what we needed.
Now that we're back, we're just simply busy preparing our lesson plans for the Spring semester. Well...at least, we get another long weekend coming up!
ta ta...
Labels: Christmas
|