CrispAds Blog Ads
Monday, December 11, 2006
Holiday Baking
Whooo, I had fun over the weekend.
Saturday, I finished my Christmas shopping for KT! Yay! Now, I just gotta wrap them all up. Then, I gotta do a little shopping to stuff KT's stocking.
While I was shopping, I was going to other stores to pick up bits and pieces necessary to do my holiday baking.
Of course, I get home only to have to go back out for a couple more things...twice. Don't you just hate that?!?
Saturday night, I made an Oreo cheesecake. Wished I had rememberd to take a picture of it. I also made a couple of Jell-o Magic Mousse.
Then, I boiled a couple of whole chickens in preparation for tamales the next day.
Got up early Sunday to make sugarplum thumbprint cookies.
Click to Enlarge
I believe this is the first time I ever made cookies from scratch. Purty good!
Then, with Oreo cheesecake, some cookies and the 2 Jell-o mousse desserts, we went over to Jon's place for a BBQ. Them people are from Minnesota. So, they were like, hey, today is a good day to BBQ! We, Texans, wouldn't even think of BBQ'ing in December.
Ok, I so did not expect the cheesecake to be devoured within the hour. KT brought up a piece. I had a bite of it and it was oh so heavenly! (Let me remind you that it was my first time making the Oreo cheesecake.) No wonder it was all gone!
I'll definitely make it again.
Then, I had to come home early so I could start making chicken tamales. You know, it's a lot of work for one person. But you know what? I really enjoy the alone time to clear my mind and just relax.
Of course, the cats were acting like I was the BEST human in the world. They were just brownnosing for some chicken shreds. Of course, I couldn't resist them.
KT came home hungry but he was willing to wait 2 hours for the tamales. That's how good they are!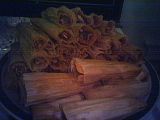 Click to Enlarge
Mmmmmm! They look delicious, no? (I hate the camera in the Sidekick pager! Came out alright for the cookies but bad for the tamales. Grrr!)
The tamales were a big improvement from last year, which was the first time I made them. They were still delicious. I wanted to continue the tradition from my maternal grandmother.
This year, they were just delicious. Next time, I'll just make them a little thicker. Basically, I'm just happy that I got it right.
Well, that pretty much sums up my weekend.
ta ta...
|