CrispAds Blog Ads
Tuesday, February 06, 2007
The Zookeeper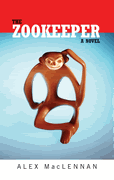 I love learning new words, phrases, concepts and the like. I was reading The Zookeeper and came across "openly closeted". I thought it was an interesting play with 2 words that sounded oxymoronic.
The question is what is an openly closeted person. This term seems to be applied to celebrities or well-known public figures. According to
postmodernbarney.com
, they "are gay, live their lives as gay men or lesbians, but steadfastly refuse to actually go that one step beyond and publicly acknowledge that, yes, they're gay".
North Dallas Thirty
says that an openly closeted person is one that refuses to answer "that question".
So, who are the openly closeted people? According to
Citizen Crain
, they are Anderson Cooper, Sean Hayes, Ricky Martin, Clay Aiken and former NYC mayor Ed Koch. According to the
Washington Blade
, David Dreier, a member of the GOP House leadership, is openly closeted.
Interesting, eh?
Anyways, below is my review for The Zookeeper as appeared in
Amazon.com
:
*The Zookeeper* was a good read, being light on plots.
Sam Metcalfe is a zookeeper at the National Zoo in DC. He is mainly responsible for black howler monkeys. Sam has some great ideas for projects and renovations for the Zoo. However, his proposals are constantly being shelved or rejected. He's also a "keeper" of other people's lives:
Jack - He's an older guy at the Zoo, who trained Sam when he first came on. He's responsible for the big cats. His wife has been dealing with cancer. Jack deals with it by drinking. At times, he comes to work ineberated.
Laurel - She is Sam's childhood best friend. She's the chef and owner of Terra, a trendy restaurant in Dupont Circle. She has been pressured by her sisters to take care of their mother in Pennsylvania. Their mother has been diagnosed with Alzheimer's.
Jamie - He is Sam's nephew. Sam is a father figure for Jamie. Jamie pretty much has a good relationship with his mother. However, problems arise every now and then. Jamie has expressed going to a particular high school but his mother is set on another school.
After a blind date, Sam has struck gold with Dean. Dean is a closeted meteorologist for the local news channel. Dean is like the perfect gay man...having a wonderful job, toned body, fantastic place and an impressive circle of friends.
Sam is in love with Dean. Dean seems to reciprocate the feeling. However, things start to change especially when Dean aims for an anchorman position in New York City.
From this moment, Sam realizes that he's losing control as a "keeper". The worst is his own life. He starts to question decisions that he has made. But before he can straighten out his life, he feels that he needs to make sure the the people in his lives are alright.
Overall, it was a good read with simple plots. This is something that you could read over the weekend. It's simply boy-meets-boy-and-boy-wonders-if-this-is-the-happy-life-and-if-he-is-content-with-it.
|